Mayor & Council
Residents of the Town of Cochrane elect its Mayor & Council every four years. The Town's current council was elected in 2018. Every council runs a four-year term. The next election will occur in the Fall of 2022. Regular Council meetings are scheduled every second Tuesday at 6:00pm, held inside the Council Chambers, in the Town Hall, located at 171 Fourth Avenue.
Regular Council meetings are televised on our community channel 327 or may also be viewed through our Council Cast section of the website. Browse the interactive calendar, and access meeting minutes and agendas below. 
Events for June
1
No Events
Events for June
2
No Events
Events for June
3
No Events
Events for June
4
No Events
Events for June
5
No Events
Events for June
6
No Events
Events for June
7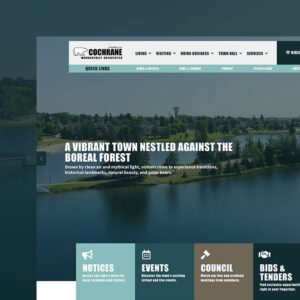 All Day
Events for June
8
No Events
Events for June
9
No Events
Events for June
10
No Events
Events for June
11
No Events
Events for June
12
No Events
Events for June
13
No Events
Events for June
14
6:00 PM - 10:00 PM
Events for June
15
6:30 PM - 7:00 PM
7:00 PM - 9:00 PM
Events for June
16
No Events
Events for June
17
No Events
Events for June
18
No Events
Events for June
19
No Events
Events for June
20
6:30 PM - 9:00 PM
Events for June
21
No Events
Events for June
22
No Events
Events for June
23
No Events
Events for June
24
No Events
Events for June
25
No Events
Events for June
26
No Events
Events for June
27
No Events
Events for June
28
6:00 PM - 10:00 PM
Events for June
29
No Events
Events for June
30
No Events
Council Cast
View regular council meetings directly on the website.
Ombudsman of Ontario
The Ombudsman of Ontario is an Officer of the Provincial Legislature who is independent of government and political parties. The Ombudsman's job is to ensure government accountability through effective oversight of the administration of government services. The Ombudsman is appointed for a five-year renewable term and his powers and authorities are contained in legislation under the Ombudsman Act.
Invite the Mayor to your event
To invite the Mayor to your function, please use the request form to send us a detailed description about the special event. Special events may include, but are not limited to the following:
Official openings
Ribbon cutting
Speaking engagements
Photo opportunities
Flag raising
You may also contact Mayor Clement by email or give us a call at 705-272-4361 (ext. 231).
Alice Mercier
Contact for Mayor & Council
171 Fourth Avenue
Cochrane, ON P0L 1C0
Tel: 705-272-4361
Minutes & Agendas
The council agendas and minutes are now being uploaded to the new Civic Web File Pro System, which are embedded below. File Pro makes it quick and easy to find and access information through searchable online files. Click on the toggles below to view latest minutes and agendas. To access past agendas and minutes, visit  Civic Web File Pro System. 
Other
Committees & Boards
Past Mayors
Since the town's inception back in 1911, there have been a total of 32 Mayors who have serve the people of Cochrane. Below is a descending timeline that displays the years in which they served in office.
Members of Council
Council Chambers at Town Hall is a council working environment that is comprised of many different people and parts. Below is a display of councillor biographies that best describe those who are helping to make daily decisions for the town and its community.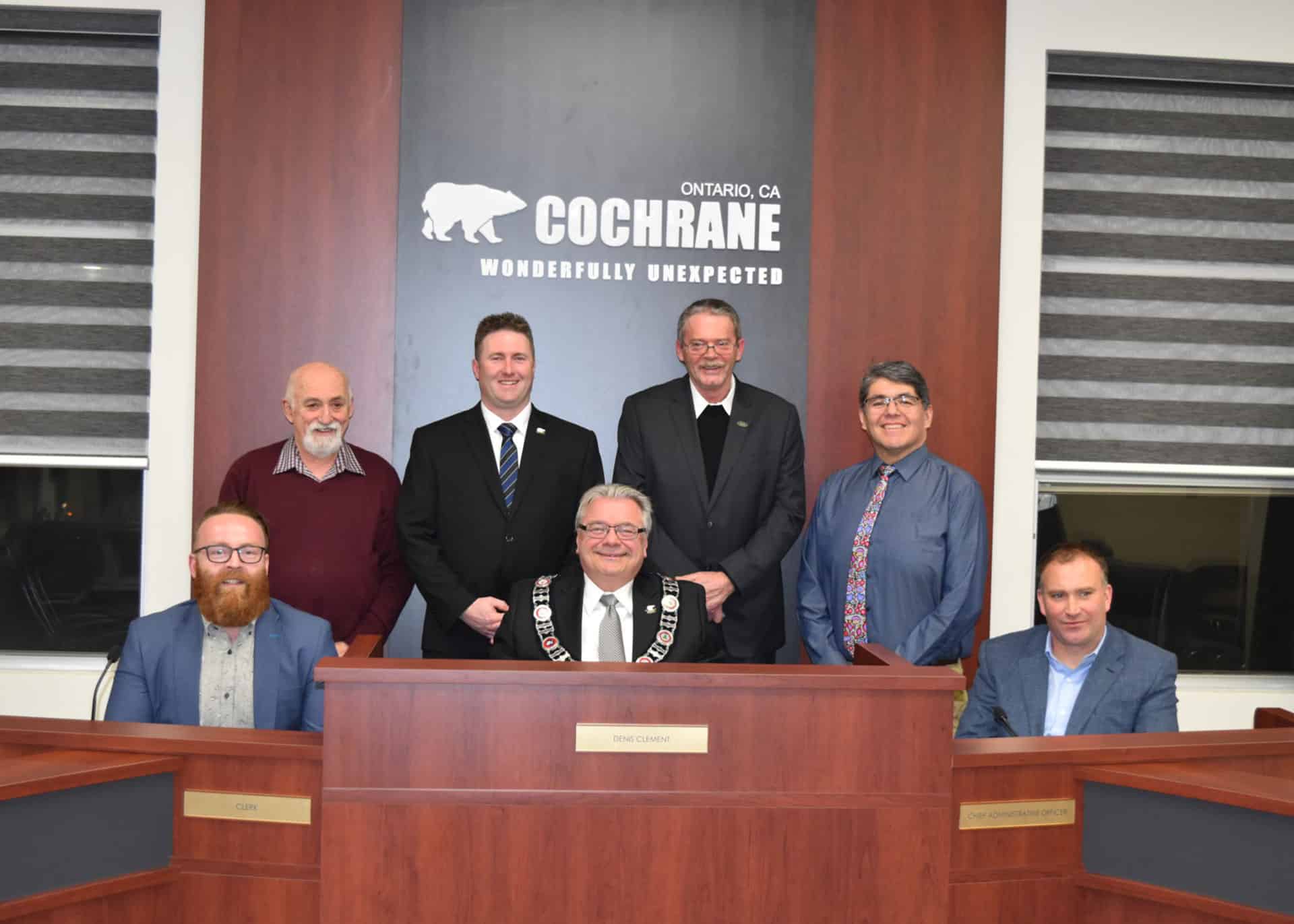 Denis Clement
Mayor
Born, raised and educated in the City of Timmins. I am bilingual and have a diploma from Northern College Applied Arts and Technology, South Porcupine Campus in Business Administration specializing in Marketing. I moved to Cochrane in 1979 and it was the best move I ever made.
I have an extensive background with the public service, a 33 year career with the Ministry of Natural Resources in a variety of managerial capacities. I've been retired for 5 years.
I have served as a councillor for the Town of Cochrane from 1993-99. During that time, I was chair of the Finance Committee. For the past 10 months I was given the opportunity to return to council as a councillor.
Being active and involved in our community is important so I served where I could make a difference. Some of the areas include Director and Chairman of Northern Ontario Wires Inc., Director of the Caisse Populaire de Cochrane, Director on the Cochrane Area Community Development, Public Library Board and President of the Lee Golf Club.
My wife Louise and I have been blessed with two children Paul and Michelle. We are the proud grandparents of two granddaughters Noa and Louane.
Un bon dynamisme règne au sein de notre conseil, ce qui nous permet d'accomplir un excellent travail d'équipe et d'entretenir une collaboration extraordinaire.
I look forward to continue my work with the community to build relationships, to develop opportunities and to improve the quality of life for the people of the Town of Cochrane.
Daniel Belisle
Councillor
Daniel was born and raised and in Cochrane. Attended primary school at St-Joseph catholic school. Attended College de Hearst for 2 years and attended Cochrane High School. I did my Post secondary education at Northern College in Kirkland Lake where I majored in business administration and accounting. 3 years.
After graduation I took a job with Canada Packers as a sales consultant. In 1975 I returned to Cochrane to work in the family automotive dealership for 33 years. Then I became an agent for Canadian Tire gas until 2016
I have 3 boys two living in Cochrane and one living in California.
Robert Hutchinson
Councillor
I have been a resident of Cochrane for most of my life. My wife Jeannette and I have raised three children in this community and are now proud grandparents to two little grandsons. Cochrane is our home and I want to ensure it remains viable and resilient.
I was the Technical Services Supervisor for the Ministry of Transportation Cochrane/New Liskeard Areas. I have been a public servant for 30+ years and have recently retired. I am an avid outdoorsman. I have been a volunteer in this community in the past and appreciate what Cochrane has to offer!
I have represented the community on many issues in the past years, from 2006- 2010 and 2010- 2014 as a member of Council. I now have the opportunity to represent you again for another 4 years, and will endeavor to live up to your expectations.
Desmond O'Connor
Councillor
Desmond is of Cree and Irish decent (The Greatest Mixture in the world! Just ask me!!) with my mother (Daisy) being born in Albany First Nation and my father (Ernie) being born and raised in Cochrane. I lived in Moosonee until the age of 4, at which time we moved to Cochrane to allow my older brother (Jack Solomon) to attend École Secondaire Cochrane High School. My family is heavily involved in all of Cochrane's activities either, through participating, organizing or just being able to relax and enjoy them. My wife Lorrie and son Seamus are true Cochranites through and through.
I am a graduate of ESCHS and of Canadore College in the Human Resources program. My Human Resources background and conflict mediation skills have helped me during my time as Youth Worker with two local youth residences. This has assisted me in my approach to all situations with an understanding of reaching a collaborative and positive resolution or a win-win outcome.
I have worked with young people most of my working career and I've been coaching youth in my spare time since 1985. I am active in Cochrane, volunteering and sitting on many different boards such as Cochrane & Area Victim Services (aka Cochrane Smooth Rock Falls Victim Services aux Victimes), North Cochrane Addiction Services, Parent Teacher Council, and I'm currently the 1st Vice President of the Ontario Federation of Indigenous Friendship Centres and the President of Ininew Friendship Centre here in Cochrane. I have also worked for District School Board Ontario North East as the Aboriginal Youth Liaison Officer and Indigenous Student Advisor since 2010.
Frank Sisco
Councillor
Frank was born and raised in Cochrane. He currently lives with his wife and has had two children as well as one granddaughter in his hometown.
For over 40 years Frank and his family owned a business in Cochrane. He held the position of butcher for 18 years as well as being the owner and manager of Sisco's Quality Meats and Groceries from 1979-1987.
In 1987 Frank began working for the town of Cochrane, where he would stay until 2012 when he semi-retired. During his time with the Town of Cochrane he would work in the role of By-Law Officer, Chief Building Official, Airport Operations and Fire Chief. Frank served on the Cochrane Fire Department for a total of 34 years.
After his retirement from the Town of Cochrane, Frank worked part-time at the Detour Gold mine site for three different companies in the Health and Safety field.
His variety of experience and understanding across these different fields is an asset he will use while serving the remaining term on Council.
Frank is an active member of the community who enjoys being involved at the Golf Club, Curling Club, Cross Country Ski Club and the Sportsmen's Club.
Council Vacancy
The Clerk's department is responsible for the coordination and management of the Council Vacancy. In accordance with the Municipal Elections Act, when the seat of a member of Council becomes vacant during the term of office, Council may fill a vacancy by appointment a person who has consented to accept the office if appointed, or requiring that a By-Election be held to fill a vacancy in accordance with the Municipal Elections Acts.
Vacancy for 2021
The Council Vacancy to elect a new Councillor, was held on Monday, August 30th, 2021.
The Town of Cochrane Council voted in Frank Sisco to fill the Vacancy.
The below is a recording of the votes. Note that a second round of votes was not needed. One candidate withdrew their application prior to the Special Council Meeting.
2021 Vacancy Results (Unofficial)
Applications for the vacancy were accepted by the municipal office until 2:00pm on Friday August 20th, 2021. All interested parties were asked to read the Council Vacancy Policy on this page and fill out the application. Completed applications were received at the Municipal Office during regular office hours. A copy of the applicants drivers license was taken at the time of drop off.
Be sure to check the Municipal Elections page under Town Hall for information regarding Municipal Elections.
Council Applicants
Below is a list of current applicants who applied to fill the Council Vacancy.
Council Vacancy Application
Council Renumeration
The Municipal Act, Section 284 (1), requires that the Treasurer of every municipality submit a Statement of Remuneration and Expenses, for the preceding year, paid to the Members of Council and Council appointments to Boards and other Bodies.
Statements of Renumeration
Download the latest Town of Cochrane renumeration statements.
2021 Council Remuneration Report
Municipal Integrity Commissioner
Section 223.3 of the Municipal Act enables a municipality to appoint an Integrity Commissioner (IC) to address the application of the Code of Conduct for elected officials and/or members of local boards and committees.
Responsibilities
The Integrity Commissioner is responsible to:
Provide information and direction to Committee and Council members on the "Code of Conduct" and the "Council – Staff Relations Policy".
Coordinate education and procedural training on the policies, Code of Conduct and Municipal Conflict of Interest Act to Council, staff and members of the community.
Conduct investigations and provide reports on alleged breaches.
Provide annual reports to Council on any requests of the Integrity Commissioner.
Integrity Commissioner
Any person who has reasonable grounds to believe that a Member has breached a provision of the Code may file a complaint with Expertise for Municipalities (E4M), the Town of Cochrane Integrity Commissioner directly as follows:
Address: 1894 Lasalle Blvd, Sudbury, ON P3A 2A4
Telephone: (705) 863-3306
Fax: (705) 863-3306
Email: ic@e4m.solutions
Inquiry & Annual Reports
Inquiry Reports and Annual Reports from the Integrity Commissioner.
Integrity Commissioner - 2021 Annual Report
Download the latest Integrity Commissioner annual report.
Inquiry Report Decision - August 10, 2021
Contravention of the Municipal Conflict of Interest Act & The Town of Cochrane Code of conduct By Former Councillor.
Inquiry Report Decision - August 31, 2021
Contravention of the Town of Cochrane Code of Conduct.
Council and Staff Relations Policy
Integrity Commissioner Inquiry Protocol
Declaration of Interest Registry 
The Municipal Conflict of Interest Act requires Members of Council to declare any direct or indirect pecuniary interest in relation to a matter under consideration. A pecuniary interest relating to a matter is one where there is reasonable likelihood or expectation of financial loss or gain by the Member or related persons as defined in the Municipal Conflict of Interest Act. The onus to declare a pecuniary interest rests with the member, and there is time dedicated for these declarations on every meeting agenda. 
Changes to the Municipal Conflict of Interest Act require municipalities to maintain a registry of all declarations made under this Act. The registry must include the original written declaration provided by the member of Council and must be available to the public. 
Additional details can be obtained from the Municipal Conflict of Interest Act, R.S.O. 1990, c.M.50.
Declaration of Interest Registry
Proclamations & Flag Raising Ceremonies
The Clerk's department is responsible for the coordination and management of Proclamations and Flag Raising Ceremonies. Proclamations can be issued for special events and/or activities to recognize the effort and commitment of organizations within the Town of Cochrane who enhance our community. See the attached policy and form for more information on submitting your requests for Proclamations and Flag Raising Ceremonies.
Requesting a Proclamation
Requests for Proclamations and/or Flag-Raising Ceremonies must be submitted by a Town of Cochrane resident, Town of Cochrane property owner or Town of Cochrane resident on behalf of an organization, and are deemed of significance to the Town of Cochrane. The following may be endorsed by Council:
Civic Promotions
Public Awareness Campaigns
Charitable Fundraising Campaigns
Arts and Cultural Celebrations
Once a proclamation requested is submitted to the Clerk's Department the request will first be reviewed by the Clerk against the approved eligibility criteria and if eligible, the Clerk will place the request on an agenda of Council for consideration. If the proclamation request has been granted previously, within the past five (5) years, the request will be reviewed by the Clerk against the approved eligibility criteria and will be presented to the Mayor for approval. In the absence of the Mayor, the approval will be delegated to the Deputy Mayor.
Proclamation Request Form
World Autism Awareness Day
April 2, 2022
Community Living Month
May, 2022
Terry Fox Week
September 13-19, 2021
Semaine de l'Union Culturelle des Franco-Ontariennes
September 19-25, 2021
Rett Syndrome Awareness Month
October, 2021
Child Care Worker and Early Childhood Educator Appreciation Day
October 21, 2021